Bickslow and Freed is a friendship between Fairy Tail Mages, Bickslow and Freed Justine.
About Bickslow and Freed
Edit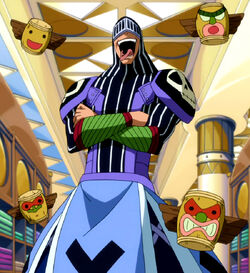 Bickslow (ビックスロー Bikkusurō) is a 22 year-old Mage of the Fairy Tail Guild and, along with Freed Justine and Evergreen, makes up the Thunder God Tribe.
Bickslow is a tall man with a mildly muscular build and broad shoulders. His hair is blue and black in color, with the black parts being almost shaven, and the blue ones, occupying the top and the sides of his head, being much longer, with the one of the top being styled in a mohawk-like crest, and the ones on the sides pointing backwards. Bickslow's large eyebrows are also blue, and the upper part of his nose and his forehead bear the tattoo of a stylized man extending his long, curved arms outwards. His irises each have a concentric circle surrounding the pupils inside them. He also has prominent eyelashes ending in a spiraling curved motif, each placed at one of his large eyes' sides; the pair of eyelashes pointing towards his nose are headed downwards, while the outer ones jut upwards. Below his eyes are two slightly curved lines pointing downwards. His black Fairy Tail Stamp is located on the upper part of his own tongue, often visible due to him sticking it out. Until recently, Bickslow applied dark nail polish to his fingernails.
Bickslow's upper body is covered in a dark, mildly fitting cloth covered in vertical white stripes, which extend up to his head to cover it in a tight hood, exposing only his hands and face. The upper part of the latter, however, is almost always obscured by a metal visor reminiscent of a Medieval sallet, which comes covered with eight small, elongated holes, with four of them in front of each of his eyes, allowing him to see, but preventing others from being affected by his Figure Eyes. He wears large armbands, and he has large shoulder pads each with skulls on its center. His waist is circled by a simple dark band, which holds up a massive waistguard made of cloth, which comes in four long, light-colored pieces, each adorned by a dark "X", reaching down below his knees. Under such waistguard, Bickslow dons a pair of extremely baggy, loose dark pants, with each leg being adorned by a pair of lighter-colored belts crossing in an "X" formation. Such pants are tucked inside a pair of light, armored greaves.
Bickslow has a strong tendency of laughing out loud maniacally and sticking his tongue out. He enjoys fighting and dislikes weak people, as shown when he said that he didn't consider weak people to be his nakama. He also appears to have a perverted side, as seen during his and Freed's "fight" against Lucy Heartfilia and Cana Alberona, where Freed suggested the girls to wear something over their revealing bikinis before engaging in battle. Bickslow's immediate response to this was dismissive, claiming that they were better that way.
Like the rest of the Thunder God Tribe, Bickslow holds great respect for Laxus Dreyar. He was willing to turn against the rest of Fairy Tail on Laxus's command, and he expressed open resentment when he learned that Makarov had excommunicated Laxus from the guild after the events of the Battle of Fairy Tail. During the S-Class Wizard Promotional Trial, he apparently partnered himself with Freed due to their shared desire to take Laxus' place as one of the top Mages of the guild.
Bickslow also seems to also have a lighthearted and carefree personality, when he and Happy were seen teasing Lucy about Loke. Also, he can get angry in a sort of comedic way- when Loke called Bickslow weak, as opposed to his dolls, he threw a fit. Bickslow refers the dolls he controls with his Magic as his "babies". They, in turn, tend to repeat the last words in most of his sentences in an echoing manner. He claims to like souls, which fits in with his two types of Magic; but expressed a dislike for a currently unknown Magic, called "White Magic".

Freed Justine
Edit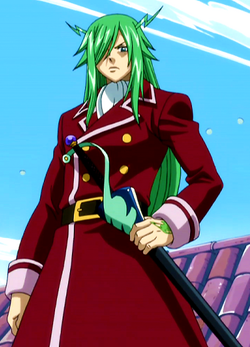 Freed Justine (フリード・ジャスティーン Furīdo Jasutīn) is a Mage of the Fairy Tail Guild who doesn't appear in the guild very often, and is also leader of the Thunder God Tribe.
Freed is a slim man of average height with very long, almost waist-length, light-green hair. with long bangs framing his face, and the right one even covering the corresponding part of his face and eye; he also has a pair of thin strands jutting out backwards from the sides of his head, both taking on a lightning-like shape. His hair is gathered at the end and tied in a short ponytail.
Freed's eyes are greenish blue, with a distinctive, small beauty mark below his left one, and prominent eyelashes. His green Fairy Tail Stamp is located on the back of his left hand (despite having been initially shown on his right hand). After the conclusion of the Fighting Festival arc, Freed was briefly shown with his hair cut short, but he returned to his old look shortly afterwards.
The most distinctive piece of Freed's outfit is his double-breasted coat, almost reaching down to his knees, which possesses a wide collar, large lighter-colored cuffs decorated by a darker line on the back part, and edges adorned by two, thin golden lines each. The buttons closing such coat are four; the coat itself has been shown in two different colors on different occasions, with these colors being red and black. Over it, around Freed's waist, is a pair of buckled belts, to which Freed's sword is attached, on his left hip, and under it, he wears a simple, light-colored shirt with large cuffs and a mildly high collar, mostly obscured by other pieces of his clothing, among which a light cravat tie around his neck, with the lower part tucked inside the coat, this until the Tenrou Island arc, in which it was momentarily shown with its ruffled edges out, before being subsequently returned to its former look. Freed's attire is completed by a pair of loose light pants tucked inside simple boots, each sporting a line of small buttons on its outer side. His clothes, together with his physical features, make him somehow resemble a French nobleman from the Enlightenment period.
Freed seems to be the calmest member of the Thunder God Tribe. While the three of them are infamous for rarely ever being seen at the guild, Freed was the most reserved remaining detached from the goings-on of the guild, and emotionally distant to those present. This collected demeanor allows Freed to remain calm and seemingly emotionless even while his teammates are excited or worried. When first introduced, he saw Laxus Dreyar as his only comrade, being willing to renounce Fairy Tail in order to follow his ideals. When Mirajane shouted at him, questioning whether they were friends, Freed closed his eyes and replied "we were once".
Although dedicated to following Laxus' direct orders, which placed him at odds with his guild mates, he's also shown to care for the well-being of his "former" friends and comrades even before his reconciliation with the guild, as he questioned Laxus when ordered to kill other Fairy Tail members, despite eventually resolving to comply with what he said, even if that path "led to hell". Despite this attitude, Freed has a "soft spot" for others, and can be quite emotional at times. Though it had been hinted at, once Freed lost the will to fight against Mirajane, he burst into tears of regret over being forced to harm his guild mates against his will, revealing his caring side. Even so, Freed's loyalty to his "commander" had trumped all other emotions, showing great strength of character for being able to go against one's emotions. After said event, he, alongside the rest of the Thunder God Tribe, seems to have grown far kinder, optimistic and more attached to his guild mates, being seen much more often in the guild.
Although Freed's sexuality has never been stated, he has shown some homosexual tendencies, such as staring at naked 3D pictures of three men, namely Eve Tearm, Hibiki Lates, and Ren Akatsuki. Freed seems to be shy when it comes to insufficiently dressed women (especially those donning revealing bikinis), blushing and becoming unable to fight if pitted against one or more of such opponents (much to Cana Alberona's delight). This, however, might just have been a ruse to cover for his deliberate defeat, as hinted by Bickslow.
Above all else, Freed is an honor-bound man, and when he feels indebted to someone, he will go out of his way to repay that debt, even if this goes against his own personal interests. Freed also seems to strongly believe in the rules imposed by his Jutsu Shiki Magic, using it in the battle of Fairy Tail, when he employed his barriers against Fairy Tail. He is shown to be willing to brutally torture the one who broke such rules and "cheated", stating he would "subject him to a fate worse than death"; though that was before his reconciliation with the guild. Moreover, he would never break his own rules.

Bickslow's History
Edit
Bickslow's history is unknown or not yet to be told.

Freed's History
Edit
Sometime before joining the Thunder God Tribe, Makarov asked Freed to supervise Laxus Dreyar in hopes of stopping him from doing anything wrong. Before the Battle of Fairy Tail, Freed hadn't returned to the guild for half a year, and hadn't met any of the newer members, such as Lucy Heartfilia. During Fairy Tail's battle with the Phantom Lord Guild, he was away in another town.

Friendship
Edit
References
Edit
Ad blocker interference detected!
Wikia is a free-to-use site that makes money from advertising. We have a modified experience for viewers using ad blockers

Wikia is not accessible if you've made further modifications. Remove the custom ad blocker rule(s) and the page will load as expected.