Gray and Wendy is a friendship between Fairy Tail Mages, Gray Fullbuster and Wendy Marvell.
About Gray and Wendy
Edit
Gray Fullbuster
Edit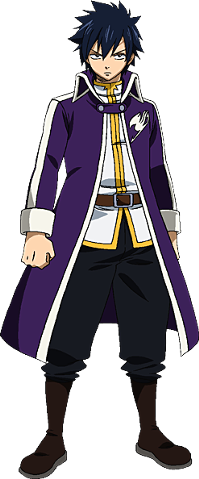 Gray Fullbuster (グレイ・フルバスター Gurei Furubasutā) is a Mage of the Fairy Tail Guild, wherein he is a member of Team Natsu.
Gray's most prominent feature is his spiky black-colored hair. He has dark blue eyes, and his body is toned and muscular.
After the mission on Galuna Island, he gets a scar on his forehead above his left eye that is partially covered by his hair. He also has a cross-shaped scar on his lower abdomen received from using Seven Slice Dance: Blood Version on Tenrou Island. His member stamp is below his collarbone on his right pectoral muscle and is dark blue in color.
Unlike almost all other characters, Gray does not consistently wear the same type of clothes (that is, when he is wearing some), though he is often shown wearing some kind of white coat.
Still, his most consistent pieces of clothing are his necklace, which resembles a sword with a stone in it, a metal bracelet and a chain which is attached to the belt loops on the right side of his pants. After obtaining Ice Devil Slayer Magic from his father, he gains a tattoo symbolizing the magic on his right arm. Following his entry into the Avatar guild, he has seemingly erased his Fairy Tail mark, replacing it with Avatar's mark, but it turned out to be only an overlay on his black marks.
Gray has a laid-back personality, but will get serious when the time calls for it. He and Natsu have a friendly rivalry, and while they can often be seen fighting one another verbally or physically, the two are actually quite concerned about each other. Gray was quite obstinate and reckless when he was younger, but over time, he has attained a more cautious attitude towards life, and deals with problems carefully. He is very concerned about his comrades and is truly loyal towards his guild, but tends to trash talk every now and then. Also, he has a disturbing habit of unconsciously removing his clothes (including underwear) at inappropriate moments. Also, Gray is quite skilled in acting as an evil person, as shown in year X792, when he infiltrated Avatar on Erza's request, something that manages to prompt Briar to remark Gray's desire for "revenge" against E.N.D. has stained both his soul and skin.

Wendy Marvell
Edit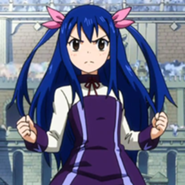 Wendy Marvell (ウェンディ・マーベル Wendi Māberu) is a young female Sky Dragon Slayer having originally been over four hundred years ago Wendy was one of the five children sent through the Eclipse Gate to the future to assist in the defeat of Acnologia. She was formerly a member of the Cait Shelter Guild. After the events surrounding Nirvana unfold, she officially joins the Fairy Tail Guild. She learned her Dragon Slayer abilities from her foster mother, Grandeeney. Following the disbandment of Fairy Tail, Wendy, along with Carla, joined Lamia Scale. Following the conclusion of the the War between Orochi's Fin and Lamia Scale, Wendy leaves Lamia Scale and joins Natsu on his journey to locate the other Fairy Tail members.
Wendy is a petite girl with long, dark blue hair that reaches down to her waist, and two bangs framing her face which reach down to her chest and brown eyes. Like all Dragon Slayers, she has elongated canine teeth. She generally wears loose fitting or bare-back dresses and sandals with wing designs, possibly to denote that she is a Sky Dragon Slayer. When first introduced, Wendy's Cait Shelter Guild stamp was located on her right shoulder, but after the Guild disbanded and she joined Fairy Tail, the stamp was replaced by Fairy Tail's Guild stamp.
During her time in Edolas, Wendy wears her hair up in pigtails held together by two animal ear like attachments. Two strands of hair hang down on each side of her face. She wears a long sleeved top with two buttons in the center and an ascot around her neck. The top is adorned with a small pattern around the shoulders and a small trim around the upturned cuffs. She wears a frilled skirt with a small trim running around right above the end. She also wears thigh high socks.
While on Tenrou Island, Wendy wears several different outfits. At first, she wears a flowing dress with a triangular pattern near the top and crossing pattern around the rest of the dress. She wears a thick band around each of her arms and ankle tied sandals on her feet. Later, Wendy receives new clothing from the Celestial Spirit World. It is a simple kimono with a black waistband and small tie over it. She wears thigh high socks and wing like attachments in her hair to keep it up in pigtails. After being saved from Hades' attack, Horologium gives Wendy new clothes. They are a suit like top with a light trim and large cuffs and dress shirt with tie. She wears a small skirt with a large sash holding the top and skirt together. Her hair is let down and she wears dark stockings.
During the Grand Magic Games, Wendy wears her team colors in a long sleeved dress with a flower pattern adorning the sleeves. She has a small tie with ribbons holding her hair in pigtails and stockings.
Wendy is very shy and polite. She is always accompanied by her Exceed companion, Carla, as they have a very close relationship. She is very eager to try and make friends. Wendy also cares greatly for her guild members, and even suggested going to the home-town of the Exceed to try and get them to evacuate when they were under threat. Wendy is becoming more confident and brave as time goes on, and she always tries to be of help wherever she can. She is intelligent and has a very honest personality, is "direct and open with her emotions", and is easily swayed by the people around her. However, this also causes her to be "very romantic". She can be spontaneous and "very ditzy". Unlike the other Dragon Slayers, Wendy doesn't enjoy fighting, preferring to avoid it as much as possible. If, however, it's for the sake of her guild or friends, Wendy will fight without hesitation.

Gray's History
Edit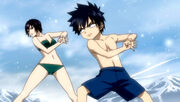 Gray was from a village up in the North, but the entire village was destroyed by the Demon Deliora. Gray's parents were killed in the incident as well. Lyon, along with Ur, a powerful ice Mage who Jellal claimed could have been one of the Ten Wizard Saints, came investigating Deliora's destruction, and found Gray alive among the ruins. Ur took Gray in as her second student and taught him and Lyon Ice-Make Magic. Gray accepted the training in order to eventually avenge his deceased parents by killing Deliora using Ur's unorthodox methods. Gray also obtained the unusual habit of stripping unconsciously from Ur's training methods.
When Gray heard of Deliora's current location, he decided to challenge it, ignoring Ur and Lyon's warnings. Gray collapsed from battling Deliora and woke up to see Ur battling it. Ur told him to take Lyon and run. Gray carried Lyon and saw that Ur had lost her leg and replaced it with ice. Suddenly, Lyon woke up and tried to cast Iced Shell, but Ur stopped him by freezing him. She explained to Gray that Iced Shell was the only thing that would beat Deliora, and was surprised to know that Lyon had tried to do what she planned. She then used Iced Shell which caused her body to be destroyed. Before turning into ice, she made Gray promise to tell Lyon that she died and told him to step into the future, since she would seal his darkness. The next day, Lyon woke up and discovered Deliora encased in ice and Ur's sacrifice. He berated Gray for Ur's death and the two apprentices parted ways.
Following Ur's advice to find strong wizards in the west, Gray arrived at Fairy Tail and asked the master for a way to reverse the effects of the Iced Shell. Makarov, however, told him that the only method that could possibly reverse it would kill Ur in the process as she lived on as the ice encasing Deliora.
Gray was present when Erza entered the guild, having been told by Cana that that day would be lucky for him, though he regarded it as one of the worst days of his life, having lost his wallet and fallen in ditches. Later, when Cana pointed out Erza's loner behavior and how she ignored Cana's own conversation attempts, Gray went over to talk to her, giving the excuse that he didn't like it when new members of the guild didn't introduce themselves to 'Gray the Great', but ended up arguing with her. He would constantly challenge Erza to battles after that, but was defeated each time. That is, until the day he found her crying by the riverside. He became flustered and refused to battle her. Upon questioning her about why she was always alone, she replied that she preferred being alone, but Gray retorted that she wouldn't be crying if that was true.
Gray was also present to welcome Mirajane, Elfman, and Lisanna into the guild, happily speaking with the latter two siblings who were able to fit in more readily than their older sister.
Gray was present when Natsu brought the egg from which Happy would later hatch to the guild. He suggested that they all eat it together, but was astonished when Natsu claimed the egg to be a dragon's egg as the marks on it were akin to those made by a dragon's claw. He watched on skeptically as Lisanna and Natsu decided to hatch the egg together. The next day, he was as surprised as everybody else when Natsu stormed into the guild, raging about the egg's mysterious disappearance. Gray got angry when Natsu went around accusing people randomly of having stolen the egg. But everybody calmed down when Elfman returned, revealing that he had taken the egg to help warm it up in the night. Soon afterwards, the egg hatched to reveal a winged, blue cat. After the event, everybody returned to their usual jovial mood.


Wendy's History
Edit
Originally born 400 years ago, Wendy, an orphan, was raised by the female dragon Grandeeney for some time. At the age of five, Wendy was sent through the eclipse gate along with four other children arriving in the future. Wendy had believed July 7, X777, the day she awoke in the future was when Grandeeney had suddenly disappeared not knowing that she had opted to hide inside Wendy's body in order to prolong her own life as well prevent Wendy from turning into a dragon like Acnologia.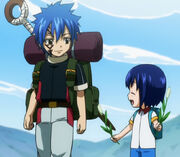 After wandering around trying to locate her lost mother, Wendy ran into Mystogan, who introduced himself to her as Jellal. Mystogan allowed her to travel with him, though he was also hopelessly lost on the road. One day, Wendy heard Mystogan utter something by the name of "Anima", and shortly after deemed it too dangerous for Wendy to travel with him further. He left her in the care of a close guild by the name of Cait Shelter, where she stayed until requested to aid the Light Team in their mission against the Oración Seis.

Friendship
Edit
Gray and Wendy are very close friends and guildmates. They care for each other deeply, much like brother and sister. Gray is like an elder brother towards Wendy, as he is often worried about her safety. He went as far as to find a way of scaring her into submission without actually harming her during the S-Class Promotion Trails.
Reference
Edit