Ichiza (イチエル Ichieru) is a past semi-canon pair between ace of the Blue Pegasus and leader of the Trimens, Ichiya Vandalay Kotobuki and Fairy Tail Guild Master, Erza Scarlet.
About Ichiya and Erza
Edit
Ichiya Vandalay Kotobuki
Edit
Ichiya Vandalay Kotobuki (一夜=ヴァンダレイ=寿 Ichiya Vandarei Kotobuki) is the ace of the Blue Pegasus Guild, as well as the leader of the Trimens (composed of Hibiki Lates, Ren Akatsuki and Eve Tearm). Many have referred him as an old man because of the way he looks, despite being 29 years old when first introduced.
Ichiya is a short and rather stout man with a distinctively big, somewhat rectangular face, a large flat nose which always seems to be shining, and prominent cheekbones. He has dark eyes and eyebrows, with a pair of lines pointing towards his nose below them, plus some stubble around his mouth and a prominent chin. His orange hair was initially kept in a wavy style with many curved spikes jutting outwards, with one acting as a fringe on the left side of his face. He seems to possess mildly hairy legs. After seven years from Fairy Tail's incident on Tenrou Island, Ichiya's appearance hasn't changed much, with the only visible difference being his hair, which has gotten longer and is kept in a different hairstyle, with the wavy, spiky strands being kept downwards and covering the sides of his face.
Ichiya's first attire consisted of a white suit with elbow-long sleeves, with distinctive pants ending below his knees in dark hems, adorned by Blue Pegasus' symbol on its left shoulder, over an orange shirt covered in many dark leaf motifs, possessing sleeves reaching down below his elbows and closed around the neck by a red bow tie, and elegant light shoes paired with light socks. The left part of his chest was adorned by a large flower reminiscent of a rose, and a wide, dark belt was seen hanging over his right hip, with several flasks attacked to it, containing perfumes used for Ichiya's Perfume Magic. After the 7-years time skip, his attire underwent subtle changes, getting visibly simpler, with his short pants losing the dark hems, his jacket seemingly covering a plain shirt which is dark in the lower part, and his shoes being dark brown.
Ichiya is a womanizer like the rest of his group. Unlike them, he is nowhere near as handsome, though he thinks of himself as such. Regardless, the Trimens call him aniki (older brother) or master and show a great deal of respect for him. He and Erza Scarlet apparently have some history together, much to her disgust, and he constantly continues to hit on her. Ichiya is also as cowardly as he is vain, and usually prefers to run from a fight. However, there is a rare exception where he proves to be courageous by going against the Council to save Jellal Fernandes for Erza's sake. He is an ardent fan of perfumes. He has a habit of saying the English word "men" all the time, and he calls Erza "my honey".

Erza Scarlet
Edit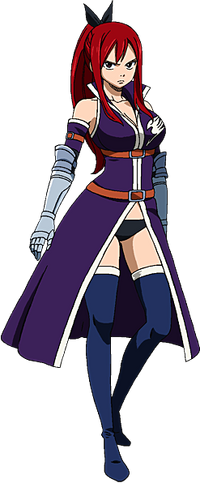 Erza Scarlet (エルザ・スカーレット Eruza Sukāretto) is an S-Class Mage of Fairy Tail who is famous for her usage of Requip Magic. She is also a member of Team Natsu, as well as one of the main female protagonists of the series.
Erza is a young woman who has long, scarlet hair and brown eyes. She also has an artificial right eye made by Porlyusica, which replaced the one she lost as a child. She has a slender figure that Lucy describes as amazing, and like most females in the series, she has large breasts. Her most common attire consists of a custom-made armor by Heart Kreuz smiths, a blue skirt, and black boots. Her Fairy Tail stamp is blue and located on the middle of her left upper arm. Erza's specialty in Requip Magic, allows her to requip not only armor, but different outfits as well, allowing her to change her attire at any given time.
Erza is a very strict person, often criticizing the bad behavior and habits of the other guild members, causing most of them to apologize, fearing that they might invoke her wrath. She is also very impatient, disliking people who don't answer her questions quickly enough. This, coupled with her own tragic childhood, caused many of her guild mates to avoid her due to her social awkwardness. However, she has a great sense of justice and pride in being a member of Fairy Tail.
According to Lucy in the letter she wrote for her mother Erza is "cool and beautiful, warm and full of passion", while to Erza Knightwalker she stated that Erza is strong, cool and a little scary but relied on by everyone, even so she can be really girly and liked sweet things and cute clothes. Jellal, when he had lost his memories, remembering nothing but the name "Erza", said her name was "full of kindness, brightness and warmth".
Erza describes herself as someone who was always crying, since she wasn't able to protect those dear to her. Several examples are when Rob tried to shield her from destruction, and when Jellal was captured because he saved her and was brainwashed by "Zeref". Also, Erza has stated that she feels uncomfortable and insecure when she's not wearing armor. However, when Erza encounters Ikaruga, she overcomes her fear and defeats her without her armor.
Despite her reserved personality and mostly dressing in her conservative Heart Kreuz armor, Erza has shown to have very little modesty and an unusual view on the concept in general. Many of her armors are skimpy, revealing and feminine, and when out of armor she has an affinity for sexy and revealing clothing. Finally, Erza seems to have no problem with men (or at least her male guild mates) seeing her naked. She felt no discomfort stating her desire to shower with Natsu and Gray or the fact that she used to shower with them when they were younger. When they were at the hot spring, when she learned that the boys may have been peeping on her and the other girls, she wanted to invite them to bath with them, much to Wendy's shock and Lucy's strong objection. Lucy has also stated that Erza has a habit of climbing into her bed in their shared room during the Grand Magic Games.
It was shown that Erza can't hold her liquor. While drunk, she acts very aggressive towards others, this is shown by her behavior towards her guild-mates. She also seems to have a problem recognizing people while being drunk.
As mention by Levy, Erza has a secret fondness for smut and erotic novels.

Ichiya's History
Edit
Ichiya's history is unknown or have not yet been told.

Erza's History
Edit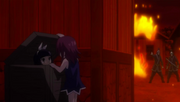 Erza grew up in Rosemary Village, the same place where Kagura and Simon lived as children. When Rosemary Village was attacked by a Zeref-following cult, Erza managed to save Kagura from capture by hiding her inside a crate, but got caught herself as a result. She was enslaved by the cult and forced to build the Tower of Heaven, a structure developed for the purpose of resurrecting the Dark Mage, Zeref. She was imprisoned together with several other slaves, most of them were children. Among these children were Jellal Fernandes, Shô, Simon, Wally Buchanan, and Millianna. While they were asking each other for their names, she said that her name was just "Erza", so Jellal decided to give her the surname "Scarlet" after her scarlet hair so they would never forget it. Despite the harsh conditions of her enslavement and labor, Erza became close friends with the other children. She also formed a strong bond with Rob, an elderly Mage from the Fairy Tail Guild, who taught her about Magic and his guild.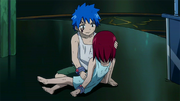 One day in X776, Shô came up with a plan for the eleven-year-old Erza and all their friends to escape from the tower. They were unfortunately caught by the guards, who decided to send the escape's mastermind to the tower's disciplinary chamber, while the rest would be deprived of food for three days. Seeing how fearful Shô was, Erza prepared to take the blame herself, but Jellal announced himself as the mastermind instead. However, the guards reasoned that Erza was the one responsible and sent her to the disciplinary chamber, where she was tortured to the brink of death and lost her right eye. Jellal rescued her, but was captured soon after. Finally fed up with their torment, Erza staged a revolt against their captors so they could escape and save Jellal.
The revolt appeared to be successful at its inception until the tower's Mages arrived to repress the slaves, causing most of the other slaves to retreat. During the attack, Erza watched in horror as her friend Simon's lower jaw was blasted off by a Magical attack, while Rob sacrificed himself to defend Erza from another Mage's attack. In her rage, Erza's latent Magic Power was activated for the first time, and she used it to turn all of the discarded weapons and tools around her against the guards, finishing the revolt.
As the other slaves boarded ships meant to ensure their freedom, she reunited with Jellal, but discovered that he had changed; the kind and compassionate boy she knew him to be was suddenly twisted and violent, using Magic to slaughter the defenseless guards around them. Jellal had been possessed by what he claimed to be the spirit of Zeref, and decided that the only way for them to attain true freedom was to complete the Tower of Heaven and revive Zeref. Erza refused to help him, prompting Jellal to cast her out of the tower by herself, only letting her live because she helped take care of all the guards who would have opposed him. Before letting her escape, Jellal told Erza to keep the Tower of Heaven a secret from the government, as well as to never return to the tower, threatening to destroy the tower and kill everyone in it, including their friends, if she disobeyed.
After washing up on the shores of Fiore, Erza made her way to and joined the Fairy Tail Guild. She habitually began to wear armor and acted distant from the other members. After Gray, who tried picking fights with the reclusive Erza, saw her crying by herself and questioned why, she began to open up to her guildmates more. Around this time, Fairy Tail's master Makarov brought Erza to see Porlyusica, who gave her an artificial eye to replace the one she lost. With her eye healed Erza shed tears of joy, which only came out of her real, left eye, though Erza didn't mind as she said she had already shed half of her tears.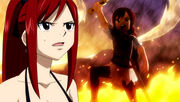 As the years passed, Erza became more and more strict until she could be called the guild's disciplinarian. She took responsibility for breaking up fights between Gray and Natsu. At the same time, however, she was driven to constantly fight and bicker with fellow member Mirajane, which eventually ended after Mirajane greatly mellowed out in the wake of her younger sister Lisanna's apparent death in X782. In the year X780, Erza passed Fairy Tail's annually held S-Class Mage Promotion Trial, becoming the youngest member of the guild to do so at fifteen years of age.

Relationship
Edit
Ichiya believes himself to be a womanizer and he has his eyes set on Erza. They apparently have some history together, however, Erza is completely disgusted by Ichiya. She comically shivers whenever she sees him, who is always trying to get uncomfortably close to her to smell her "parfum", as seen at the rendezvous point for the mission to annihilate Oración Seis. As Ichiya approached Erza, Erza retaliated with a powerful punch and he landed on Lyon who froze him and threw him to Hibiki, Ren and Eve.[1] Despite this, Erza recognizes Ichiya as one of the strongest Mages of Blue Pegasus.[2]
Oración Seis Arc
Edit
Team Natsu is chosen to meet with other mages from different guilds to defeat the Oracion Seis. Erza, with Natsu, Lucy, and Gray, leave to meet the other mages. The first to arrive are three mages from Blue Pegasus: Hibiki Lates, Eve Tearm, and Ren Akatsuki. Soon after their arrival, their leader, Ichiya Vandalay appears.
Erza is shocked to see Ichiya and Hibiki quickly comes to the conclusion that they were previously romantically involved with each other. Erza admits that while Ichiya can be over the top, she does believe he is an amazing mage. Ichiya tries to get close to Erza, but is quickly kicked away and then frozen by Lyon Vastia.
After Erza and the rest of the mages, excluding Ichiya and Jura, follow Natsu out of their meeting place, Ichiya attacks Jura and is revealed to be Gemini, a Stellar Spirit belonging to Angel.
After, the true Ichiya appears and heals his comrades with Jura with his healing perfume. Later, Ichiya with the others, battles against Lahar, but stops after Erza's pleads for them to stop.
Key of the Starry Sky Arc
Edit
Grand Magic Games Arc
Edit
After successfully completing the preliminaries, Ichiya approaches Erza and sniffs her, commenting on her "lovely perfume".[3] Later, after Erza defeats all 100 demons, Hibiki Lates comments that such a feat was only expected by Ichiya's girlfriend.[4]
References
Edit
Ad blocker interference detected!
Wikia is a free-to-use site that makes money from advertising. We have a modified experience for viewers using ad blockers

Wikia is not accessible if you've made further modifications. Remove the custom ad blocker rule(s) and the page will load as expected.