Lavia (ラクジュビ Rakujubi) is a fanon pair between Fairy Tail S-Class Mage, Laxus Dreyar and Fairy Tail, Mage Juvia Lockser.
About Laxus and Juvia
Edit
Laxus Dreyar
Edit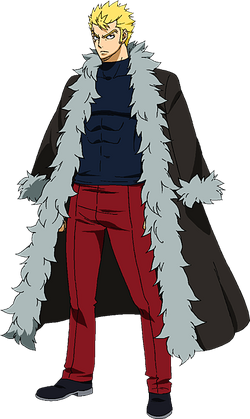 Laxus Dreyar (ラクサス・ドレアー Rakusasu Doreā) is an S-Class Mage of the Fairy Tail Guild. He is the grandson of Fairy Tail's Guild Master, Makarov Dreyar, and the son of Raven Tail's Master, Ivan Dreyar. After Fairy Tail's disbandment, he joined the Blue Pegasus Guild along with the members of the Thunder God Tribe. However, after the guilds reformation, he later left to join Fairy Tail again along with the team.
Laxus is a very tall and muscular young man with orange eyes (portrayed as blue/grey in the anime). His hair is slicked back, its numerous spiky strands pointing backwards, though some of it falls down on his forehead. He has a distinctive lightning bolt-shaped scar on his right eye, and much like his father and grandfather, he sports dark lines circling his eyes, with each of them possessing a single, prominent eyelash jutting outwards. Laxus is almost always seen wearing his signature "Sound Pod" model of Magic Headphones, with his favorite music being Classic Rock & Roll. His black Fairy Tail stamp is located on the left side of his chest, and is surrounded by a large, additional design, which extends up to his left shoulder and covers part of the corresponding upper back. Being an artificially created Dragon Slayer, he enters Dragon Force mode when accessing his powers: in this state, his upper body bulks up, and his forearms become covered in flesh-colored scales.
In his first appearances, he donned an orange tunic with spots reminiscent of a leopard's on the shoulders and sides, with dark-lined sleeves reaching down below his elbows, and fur on the lower edges. He sported a bright red cape, tied on the front with a garish knot, which bore a large, lighter Fairy Tail symbol on the back, and loose, baggy dark pants tucked inside light metal greaves. Around his waist was a simple belt to which he attached the device linked to his Magic Headphones. He also had a small chain tied around his right wrist, and was initially portrayed smoking large cigars. His outfit changed drastically later on. He started wearing a more traditional and elegant attire composed of a shirt bearing the same pattern of his old tunic, green pants held up by a belt with a design similar to his shirt's, sporting a buckle adorned by a large ace of spades, and simple shoes. He also donned a large, brownish coat with light brown, spiky fur trimming around the neck and the sleeves' edges, draped over his shoulders like a cape. In addition to this, he wasn't shown smoking anymore. Later, he switched to a dark shirt with thin light stripes crossing it vertically. Alternatively, he was shown bare-chested, with his upper body covered in bandages due to his injuries. On occasion, his outfits have appeared differently. With his original outfit, his pants have been portrayed as wine-red, and his coat as black with grey fur trimming. During his attack on the guild, he had switched to a similar attire, but again differently colored: he retained the coat, but his shirt was purple and more wide-collared, and his pants bluish black, held up by a reddish belt.
On Tenrou Island, he was shown wearing simple travel clothes, consisting of a large, hooded light cloak, a dark shirt under a long light jacket closed by a simple belt, loose dark pants ending below his knees, where each leg has a light band circling it, and boots reminiscent of his old greaves. He also has a small belt visible on his upper chest, crossing it horizontally.
In his youth, Laxus was a truly kind boy, very attached to his grandfather Makarov, and greatly admired Fairy Tail. This, however, changed with the excommunication of his father from the guild, and Laxus' growing thought and suspicion that his fame was a result of being Makarov's grandson, and not of his own skills-something that made him eager to prove himself as a strong Mage in his own right.
Laxus was initially portrayed as arrogant, overbearing, selfish, and prone to make fun of his own comrades. He believed himself to be the strongest member of Fairy Tail, and looked down on those he considered weak, heavily reprimanding their weakness and even resolving to hurt them whenever they stepped in his path. Laxus seemed to care very little about his fellow guild mates, usually suggesting that they had to give him something in order to acquire his help: in one of such instances, when he was asked for help during the Fairy Tail vs Phantom Lord confrontation, he also proved himself to be quite lecherous, offering to help his comrades out only if the "big-boobed" Lucy Heartfilia had become his girlfriend and Cana Alberona had stripped before him. Not even his trusted Thunder God Tribe were spared of this treatment, as seen when Laxus almost hit Freed Justine with one of his lightning attacks for contradicting him. The only things he appeared to truly care about were the strength and reputation of Fairy Tail, and he became enraged every time someone made fun of it. During his battle with Natsu Dragneel and Gajeel Redfox, he was shown entering a Berserker-like state, in which he showed the most ruthless side of him, being willing to laugh off Makarov's possibly imminent death and to annihilate not only Fairy Tail, but also all of the inhabitants of Magnolia, for his goals.
However, after his excommunication it appears that his attitude has changed. He seems far more light-hearted and serene, and apparently has grown fond of the guild in his current state. He was also willing to take all the responsibility of the crimes for himself, in order for the Thunder God Tribe to remain members of the guild, even encouraging them for the time being. Even before his excommunication, Freed claimed that Laxus inherited not only Makarov's Magical prowess, but also his heart for caring for comrades, something shown when none of his guildmates or the townspeople from Magnolia were affected by his Fairy Law. During the Fantasia parade, when Makarov, alongside the whole Fairy Tail, silently told Laxus that he would always be watching over him right before his departure, he shed tears and was ashamed of his previous actions.
While he is a likely candidate to succeed his grandfather in leading Fairy Tail, Makarov initially believed Laxus' intentions were not yet right, something proven right when Laxus stated that, once he had inherited leadership of Fairy Tail, he would have eliminated all the weak members to create the strongest guild in the country. This, however, seems to have changed after his expulsion and "redemption", as Makarov was seen entrusting his will to him from afar after his brief confrontation with Hades.
As a Dragon Slayer, Laxus suffers from motion sickness, although he is extremely ashamed to admit it.

Juvia Lockser
Edit

Juvia Lockser (ジュビア・ロクサー Jubia Rokusā) is a Mage of Fairy Tail, formerly being one of the five S-Class Mages of the Phantom Lord Guild.
Juvia is a young woman with blue hair, dark blue eyes, pale skin and a curvaceous figure. She is first introduced with long hair, tightly curled at the base, wearing a navy blue coat, a fur shawl with a teru teru bōzu attached to it, as well as a Russian Cossack hat. Upon becoming a member of Fairy Tail, she cuts her long hair and begins wearing more revealing clothes. However, after hearing about Gray Surge's crush on her Edolas counterpart, Juvia then returns to her original appearance with the exception of the teru teru bōzu, instead wearing a Fairy Tail emblem. Juvia's Fairy Tail Guild Stamp is above her left thigh.
By the time of the Grand Magic Games, Juvia seems to have let her hair fall freely past her shoulders in a wavy style.
Juvia is first introduced portraying an emotionless face, seeming more secluded from everyone including members of the Phantom Lord Guild. After she joins Fairy Tail, she develops a happier demeanor. She is obsessed with Gray Fullbuster and when Meredy threatens him, Juvia loses her generally calm demeanor and enters a somewhat satanic-appearing state that frightens Meredy and even Erza. Juvia also seems to have a slight masochistic side; upon making a mistake, she asks Gray to spank her as punishment, saying it's her "hobby" while Gray says it isn't his. She's also very polite towards other, typically addressing others with honorifics, though she addresses Gray as "Gray-sama" only.
She cares deeply for Fairy Tail and its members. During the Fighting Festival arc, Juvia is pitted against a fellow guild mate, but instead chooses to K.O. herself by attacking a thunder lacrima, even though she knows that it will cause her harm. Upon entering Fairy Tail, she wasn't feared or hated for her past relationship with Phantom and she maintains a good relationship with the other members. She is also shy about her body, as she didn't like to shower with other girls. Juvia tends to refer to herself in third person, and often says "drip, drip, drop" due to the rain she used to bring with her. Juvia has a wild imagination in which she tends to fabricate relationships and love rivals.

Laxus' History
Edit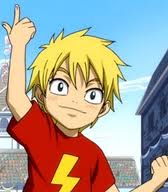 Like many members of the guild, Laxus was a part of Fairy Tail since he was a child, given that he is also Makarov's grandson. Laxus constantly felt trapped in a shadow by being the grandson of Makarov and as a result, felt he never got the credit he deserved.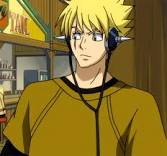 From then on, Laxus vowed to become stronger and beat Makarov so he could prove himself and become a man in his own rights. His father was kicked out of the guild because of being a danger to Fairy Tail. This incident enraged him as he tried to convince Makarov to bring his father back since they were still family members, but despite this, Makarov refused. Laxus' father at the time set up his own guild, the Dark Guild Raven Tail. Laxus attained the rank of S-Class Mage in X788, at the age of 17.

Juvia's History
Edit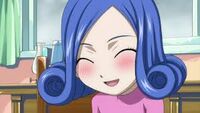 Juvia was born in the year X767, and spent her childhood shunned by the other children for constantly making it rain around her. She took up making teru teru bozu dolls in an attempt to make it stop raining, but it only served to make the other children tease her even more.
Sometime during her childhood years, Juvia went off to visit her uncle with a present in hand in the Western Region of Fiore. However, when she was sitting on a bench, she noticed that her present got stolen. Wondering what she should do, Juvia sat close to a fountain to think, until the sadness overtook her and it started raining. Unbeknownst to her, her rain destroyed a young Gray Fullbuster's bag of gold cotton, which was worth a fortune. She then decided to keep looking for the things she lost. When Gray managed to defeat the thief and Juvia got back her possessions, feeling overjoyed, the rain began to cease, and she exclaimed that she could go meet her uncle again now. Juvia then departed on a train herself, and the girl's face brightened up when she saw that the sky had finally cleared up.
As she grew older, she would overhear other people commenting on the gloominess of the rain around her, making her feel increasingly depressed. At one point in her life she was in a relationship with Bora, but he broke up with her because he couldn't stand the rain. Eventually, she was accepted into the Phantom Lord Guild, noting that it was the first time anyone had accepted her, and formed a quarter of the guild's elite Mage team: Element 4.

Relationship
Edit
While almost no interactions have been shown between them, Laxus and Juvia are guild mates and later teammates during the Grand Magic Games, both in Fairy Tail B Team and the combined Fairy Tail Team.[1][2] Juvia, at first, was one of the victims of Laxus' anger with the guild's apparent weakness. He had Evergreen turn the Miss Fairy Tail Participants into stone during the Harvest Festival.[3] But after Laxus has returned from his excommunication, they appear to have a neutral relationship. Laxus is constantly speechless with Juvia's antics and Juvia is shown to be amazed with Laxus' strength during his battle against the whole Raven Tail Team.[4][5][6]

References
Edit
↑

Fairy Tail Manga: Chapter 268, Pages 3-5

↑

Fairy Tail Manga: Chapter 303, Page 17

↑

Fairy Tail Manga: Chapter 107, Page 14

↑

Fairy Tail Manga: Chapter 269, Pages 20-21

↑

Fairy Tail Manga: Chapter 291, Page 11

↑

Fairy Tail Manga: Chapter 287, Pages 10-12