Rogue and Frosch is a friendship between Sabertooth Mage, Rogue Cheney and Sabertooth Mage and Exceed, Frosch.
About Rogue and Frosch
Edit
Rogue Cheney
Edit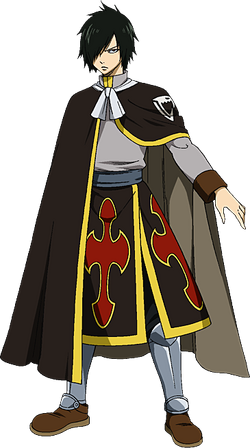 Rogue Cheney (ローグ・チェーニ Rōgu Chēni) is a Mage of Sabertooth, formerly the strongest Guild in Fiore, and a member of its team: Twin Dragons of Sabertooth. As a child, Rogue referred to himself as Ryos (ライオス Raiosu)
Rogue is a slim young man of average height with rather messy black hair, which almost reaches down to his shoulders, along with some strands pointing upwards on top of his head and a prominent tuft obscuring most of his forehead. His hair is later brushed to the right side of his face covering up his right eye. He has red eyes with slit pupils similar to that of a snake's, like Gajeel Redfox's eyes. Following the battle against the Dragons, Rogue gains a thin scar across the bridge of his nose. Rogue wears a long, black cape reaching down to his feet, with golden edges, a much lighter collar circling his neck, and a prominent, white ribbon hanging down on his chest. Such cape bears a light Sabertooth's symbol on it, almost in correspondence to Rogue's left shoulder. Below it, Rogue seems to wear a plain greyish blueish tinted white shirt, with prominent brown cuffs and what looks like a large metal band circling each of his biceps. From a light sash circling his waist hangs a distinctive, pale blue cloth waistguard, consisting of four long pieces of cloth reaching down below his knees. Each of these pieces is adorned by a large, dark cross with fan-shaped arms. Below such waistguard, Rogue wears a pair of armored boots, which, on the front, bear plates bearing the very same motif which appears on the waistguard.
Rogue is the quieter of the Twin Dragon Slayers. He mostly keeps a calm face and rarely shows any emotions. Also, Rogue wasn't interested in watching the matches like Sting was, stating that he is only interested in Gajeel. Although he is part of Sabertooth and one of their five strongest Mages, Rogue seems to question the way their guild handles things, namely failure and weakness, and holds a strong belief on comradeship. After Yukino lost her match against Kagura and was subsequently excommunicated by their Guild Master, he told Sting that despite her failure, she was still their comrade. Sting, whereas, merely brushes off Rogue's comment, suggesting that it's the way their Guild works and gave the matter little thought.
Rogue does, however, have a softer, caring side. When his Exceed partner, Frosch, started to fret over being excommunicated because of its lack of strength, Rogue smiles and denounces Frosch's fears as just that, promising that it would be okay as long it was with him. Rogue also seems to lack the sadistic tendencies shared among several of his guildmates. When Lucy was being tortured by Minerva, Rogue did not join in with his teammates' laughter. Rather, Rogue was looking at the torture with a stern expression. He appears to be unusually kind for his Guild.
Though not seen, as a Dragon Slayer, Rogue also suffers from motion sickness.

Frosch (フロッシュ Furosshu) is an Exceed and a Mage of the former strongest Guild in Fiore: Sabertooth.
As an Exceed, Frosch is a small, long-tailed, green anthropomorphic cat that can stand on its hind legs. Frosch has large, round eyes, each complete with a pair of prominent eyelashes, and rosy cheeks.
The entirety of Frosch's body, aside from its face, is covered by a pink frog-like suit, of which the vast majority is covered by black spots. The suit sports a plain belly, webbed hands, and a hood which forms the frog's head, complete with two beady eyes resting on the hood.
Frosch is happy-go-lucky, has a habit of speaking in the third person, and agrees with other people's opinions, regardless of what they may be. Also, Frosch has a habit of asking questions that others may deem to be redundant, such as when it was scolded by Lector for asking who would win between Orga and Warcry. Frosch is also very fond of Yukino, apparently having a good relationship with her when she was in Sabertooth, and was seen visibly saddened by her excommunication from their guild, and, afterwards, mentioned that it felt lonely. Frosch has a fear of being excommunicated from Sabertooth, but, according to Rogue, Frosch's fears are for naught, as he is there with it.
Frosch loves Rogue, and was very worried when Rogue was being beaten by Jiemma. Frosch is also very outgoing and is willing to put itself in danger to protect the ones it loves, as seen when it ran to where Gajeel and Rogue were fighting, intent on making the "Shadow" leave Rogue's body, and when it arrived, protected Rogue, who would die if the fight continued any further, from Gajeel.
Frosch also has a very good relationship with Lector, and is always, if not with Rogue, in Lector's company. When Lector was "killed" by Jiemma, Frosch was left in a state of total shock. Later, on the final day of the Grand Magic Games, Frosch was very visibly depressed without its friend by its side.

Rogue's History
Edit
Rogue was raised by a Dragon known as Skiadrum, who taught him Shadow Dragon Slayer Magic. When Skiadrum became ill, Rogue used the Magic he was once taught to assist the Dragon in death. At some point in his life, Rogue also implanted Dragon Lacrima into his body, thereby making him a Third Generation Dragon Slayer.
Seven years ago, Rogue was a fan of Natsu Dragneel, the sworn younger brother of Gajeel Redfox, and desired to join the Phantom Lord Guild, which Gajeel used to be a part of. Also during this time, Rogue changed his name to Ryos as he disliked its meaning.

Frosch's History
Edit
Frosch's history is unknown or not yet to be told.

Friendship
Edit
Rogue is one the first person seen by Frosch after his birth. They made a strong bond and the exceed follow the dragon slayer in every choice.
Grand Magic Games
Edit
Rogue was in Team Sabertooth and Frosch supported him. During the Tag battle event Sabertooth lose with great despair of Rogue and Frosch.
During the battle between Rogue and Gajeel an entity inside the Sabertooth Mage emerged and possessed him. Frosch asked to Gajeel to leave Rogue alive.
Tartaros arc
Edit
Sabertooth receveid a letter from Erza about Minerva. The twin dragon slayers and they exceed arrived near Cube and partecipated to the battle between Tartaros and Fairy Tail. Then they returned in the guild with the "new" Minerva.
Avatar arc
Edit
Natsu decided to take the place of Rogue in his mission to protect his exceed.
The twin dragon and exceed arrived in Malva town where noted the new victory of prominent members of Fairy Tail.
Alvarez Empire arc
Edit
Sabertooth headed toward North front where they met the defeat.
References
Edit
Ad blocker interference detected!
Wikia is a free-to-use site that makes money from advertising. We have a modified experience for viewers using ad blockers

Wikia is not accessible if you've made further modifications. Remove the custom ad blocker rule(s) and the page will load as expected.